Vedic astrology, also known as Indian astrology, is a branch of astrology that originated in ancient India. It differs significantly from Western astrology, as it is based on the position of the constellations in the solar system. In Vedic astrology, the sky is divided into 12 zodiac signs, each representing a different aspect of a person's life and personality.
While Western astrology is widely known and often found in newspaper horoscopes with the question "What's your sign?", Vedic astrology takes a different approach. The major difference between the two lies in the calculation of the zodiac signs. Western astrology follows what is known as the tropical zodiac, which is based on the position of the Earth in relation to the Sun.
On the other hand, Vedic astrology follows the sidereal zodiac, which is based on the position of the constellations in the solar system. This means that Vedic astrology takes into account the precession of the equinoxes, a gradual shift in the Earth's axis that impacts the position of the stars and constellations.
In Vedic astrology, the 12 zodiac signs are called "Rashis" and they are divided into four elements: fire, earth, air, and water. Each sign has its own ruling planet and specific characteristics associated with it.
For example, an air sign like Gemini or Libra is ruled by Mercury, the planet associated with communication and intellect. These signs are known for their sociability, adaptability, and quick thinking.
On the other hand, a sign like Capricorn or Aquarius is ruled by Saturn, the planet associated with discipline and responsibility. People born under these signs are often seen as ambitious, hardworking, and methodical.
Vedic astrology also places a great emphasis on the concept of the birth chart. This chart, also known as the "Janma Kundli", is a map of the solar system at the exact moment of a person's birth. It is believed to reveal valuable insights into an individual's personality, strengths, weaknesses, and life path.
Overall, Vedic astrology offers a unique perspective on the zodiac signs and their influence on our lives. Whether you are a Western astrology enthusiast looking for a fresh perspective or simply curious about the power of the stars, exploring Vedic astrology can be an enlightening journey. Discover the hidden depths of your personality and unravel the secrets of the universe with Vedic astrology.
What Is Vedic Astrology
Brief History and Core Principles
The Origins of Vedic Astrology
Vedic astrology, also known as Hindu astrology, finds its origins in the ancient texts of India, particularly the Vedas. It is an integral part of the Hindu belief system, intertwined with spirituality and the cosmic order. Dating back thousands of years, this system has evolved and adapted to the changing times while preserving its essential core.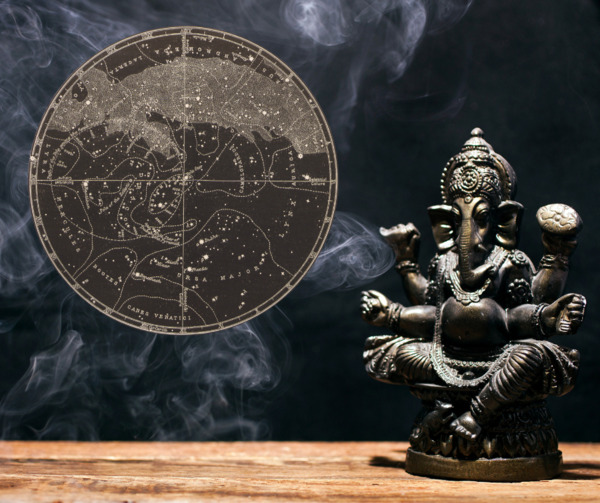 The Foundations of Vedic Astrology
At the heart of Vedic astrology lies the belief that celestial bodies, such as planets and stars, influence human lives and destinies. It is based on the principle that the positioning of these celestial bodies at the time of a person's birth can reveal valuable insights into their character, behavior, and life path. The cosmic energies, known as 'Nakshatras' and 'Rashis,' play a pivotal role in this practice.
The Role of Astrologers
Vedic astrologers, often referred to as 'Jyotishis,' are the custodians of this ancient wisdom. They meticulously analyze birth charts, or 'Kundalis,' to interpret the influence of celestial bodies. These interpretations guide individuals in making informed decisions about various aspects of their lives, such as career, relationships, and health.
Overview of Main Techniques
Kundali Reading
The cornerstone of Vedic astrology, Kundali reading, involves creating a birth chart based on the individual's birth date, time, and place. This chart, known as the 'Janam Kundali,' serves as a personalized map of one's life journey. Astrologers analyze the positions of celestial bodies within the Kundali to gain insights into the person's strengths, weaknesses, and potential life events.
Doshas and Remedies
Vedic astrology also takes into account the concept of 'Doshas,' which are imbalances in one's astrological chart that can lead to challenges and obstacles. Astrologers prescribe remedies, such as gemstone recommendations, mantras, or rituals, to mitigate the negative effects of Doshas and enhance positive planetary influences.
Muhurta Shastra
In Vedic astrology, the timing of events is of utmost importance. 'Muhurta Shastra' is the branch that focuses on selecting auspicious moments for significant life events, such as weddings, business ventures, or housewarming ceremonies. Choosing the right moment is believed to enhance the chances of success and happiness.
Transit Analysis
Transit analysis involves examining the current positions of celestial bodies and their impact on an individual's life. By observing how the planets move through the zodiac signs and interact with the natal chart, astrologers can provide valuable guidance on short-term trends and opportunities.
What Types of Branches of Vedic Astrology Are There?
In the world of astrology, Vedic astrology stands out as one of the most ancient and profound systems. Rooted in the wisdom of the Vedas, this intricate science has evolved over thousands of years, giving rise to various specialized branches. As we delve deeper into the cosmos of Vedic astrology, we'll explore the major branches and the key differences that set them apart.
Unveiling the Major Branches of Vedic Astrology
Jyotisha – The Divine Light
Jyotisha, often referred to as Jyotish Shastra, is the foundational branch of Vedic astrology. It focuses on the study of celestial bodies and their influence on human lives. This branch encompasses various subfields, including Natal Astrology, Mundane Astrology, and Horary Astrology, each offering unique insights into different aspects of life.
Parashara – The Sage's Teachings
Parashara astrology is named after the legendary sage Parashara, who is credited with composing the timeless text "Brihat Parashara Hora Shastra." This branch places a strong emphasis on predictive astrology and is known for its precise calculations and intricate methodologies.
Nadi Astrology – The Palm Leaf Prophecies
Nadi astrology is a distinctive branch that relies on ancient palm-leaf manuscripts. These manuscripts are said to contain personalized predictions for individuals based on their thumbprints. Nadi astrology is revered for its accuracy and profound insights into one's destiny.
Electional Astrology – Choosing Auspicious Moments
Electional astrology, also known as Muhurta or Muhoortha Shastra, focuses on selecting auspicious timings for important life events. Whether it's a wedding, business venture, or even a medical procedure, this branch helps individuals make informed decisions to maximize success and harmony.
Read also: Moon in Astrology – Comprehensive Guide
Key Differences Between Vedic Astrology Branches
Now that we've uncovered the major branches, let's delve into the key distinctions that set them apart:
Methodology
Each branch employs its unique methodology. Jyotisha leans heavily on the positions of planets and stars, Parashara astrology relies on intricate calculations and chart analysis, Nadi astrology interprets ancient palm leaf manuscripts, and Electional astrology emphasizes auspicious timing.
Focus and Application
The branches differ in their primary focus. Jyotisha is widely used for personal insights, Parashara astrology excels in predictive astrology, Nadi astrology offers profound individual predictions, and Electional astrology aids in choosing the right time for important life events.
Tools and Techniques
Vedic astrologers employ various tools and techniques specific to their chosen branch. Jyotish practitioners use detailed birth charts, Parashara astrologers rely on planetary periods, Nadi astrologers examine thumbprints, and Electional astrologers calculate auspicious moments.
Vedic Astrology Specializations
Medical Astrology and Applications
Understanding the Body-Mind Connection
Medical astrology, also known as "Jyotish Shastra," is a branch of Vedic astrology that seeks to unravel the intricate connection between celestial bodies and one's physical and mental health. It operates on the principle that the positions of celestial bodies at the time of a person's birth influence their constitution and vulnerabilities.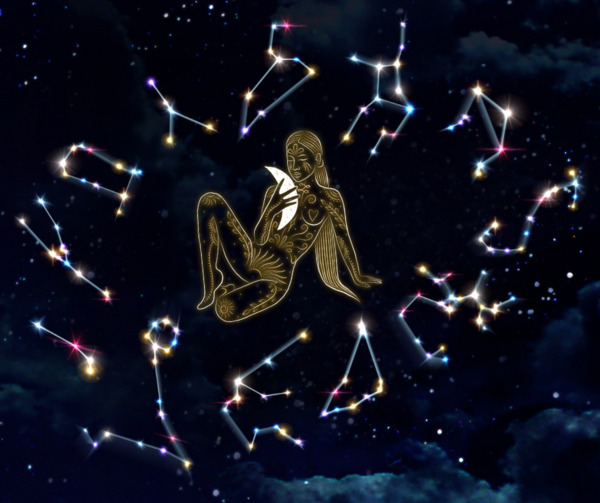 Natal Charts as Diagnostic Tools
One of the primary tools in medical astrology is the natal chart, which provides a detailed snapshot of an individual's planetary influences. Astrologers analyze these charts to identify potential health issues and predispositions. For instance, the placement of Mars could indicate a tendency toward fevers or inflammations, while the Moon's position might reveal emotional susceptibilities.
Holistic Healing through Gemstones
In the realm of medical astrology, gemstones play a vital role. Specific gemstones are associated with each planet and wearing them is believed to balance planetary influences and promote healing. For instance, a person with Saturn afflictions might wear a blue sapphire to mitigate its malefic effects.
Forecasting Health Trends
Medical astrologers also use transits and progressions to predict health trends and potential challenges. By studying the movement of celestial bodies in real-time, they can offer valuable insights into upcoming health developments, allowing individuals to take preventive measures.
Relationship Astrology and Uses
Unraveling the Dynamics of Love and Connection
Relationship astrology, often referred to as "Synastry" or "Compatibility astrology," is dedicated to deciphering the intricate dance of relationships. It explores the cosmic connections between individuals, shedding light on the dynamics of love, friendship, and family bonds.
Synastry Charts: Mapping Compatibility
The cornerstone of relationship astrology is the creation of synastry charts, which compare the birth charts of two individuals. These charts unveil the strengths and challenges within the relationship, offering guidance on how to navigate them.
Love and Timing
Timing is crucial in matters of the heart, and relationship astrologers excel in identifying favorable periods for significant milestones such as marriage or starting a family. They analyze the transits of Venus and other relevant planets to pinpoint auspicious moments.
Healing and Reconciliation
Relationship astrology isn't just about romantic partnerships; it also extends to familial and platonic connections. Astrologers can provide insights into resolving conflicts, understanding differences, and fostering harmony in various relationships
What is the Difference Between Vedic Astrology and Western Astrology?
In the mystical realm of astrology, two distinct systems have captivated the minds and hearts of enthusiasts worldwide: Vedic astrology and Western astrology. While both aim to decode the celestial messages, they diverge significantly in their approaches. Let's embark on a cosmic journey to explore the contrasting calendars, karma views, and the intriguing concept of retrogrades that distinguish these two ancient astrological systems.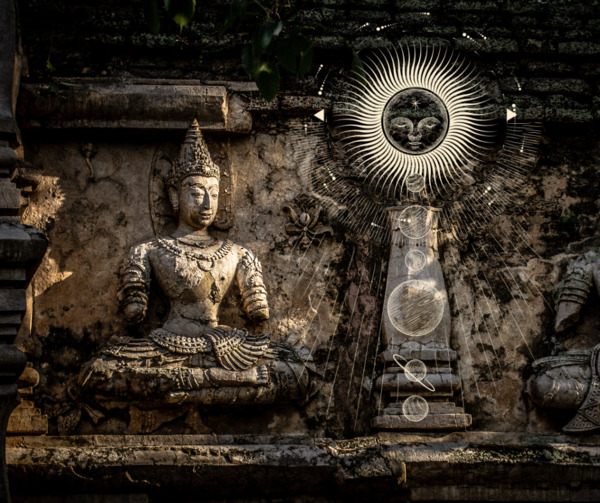 Contrasting Calendars
Vedic Astrology – Rooted in the Sidereal Zodiac System
Vedic astrology, often referred to as Jyotish, finds its roots in the sidereal zodiac system. In this system, the position of celestial bodies is determined concerning the fixed stars. It's a calendar that aligns with the actual astronomical positions of the stars and planets.
Western Astrology – The Tropical Zodiac
Conversely, Western astrology relies on the tropical zodiac, also known as the 'tropics of the zodiac.' This system aligns with the seasons, and the zodiac signs are tied to the equinoxes and solstices, making it distinct from Vedic astrology's sidereal approach.
Karma Views
Vedic Astrology – Embracing Karma and Destiny
In Vedic astrology, the belief in karma and reincarnation is deeply ingrained. It is believed that your actions in past lives influence your present and future. Vedic astrologers use a birth chart, known as the "Janam Kundali," to gain insights into one's past karma and future destiny.
Western Astrology – A Psychological Perspective
Western astrology, on the other hand, often focuses on psychological insights and personal growth rather than karma and destiny. It delves into personality traits and behavioral patterns, offering guidance for self-improvement and understanding.
Retrogrades – A Celestial Phenomenon
Both Vedic and Western astrology acknowledge the phenomenon of retrogrades, where planets appear to move backward in their orbits. However, their interpretations differ.
Read also: Aries and Leo Compatibility – Exploring Relationships Between
Vedic Astrology – An Introspective Period
In Vedic astrology, retrogrades are seen as times for introspection and revisiting past issues. They are believed to intensify the energy of the planet involved, potentially leading to transformative experiences.
Western Astrology – Challenges and Reassessment
In Western astrology, retrogrades often signify challenges and disruptions in various life areas associated with the retrograding planet. It's a time for reassessment and making necessary adjustments.
12 Vedic Astrology Signs: Zodiac Signs and Personality Traits
Zodiac signs play a pivotal role in Vedic astrology. They are an integral part of the astrological system and serve as a guiding light for understanding an individual's personality, behavior, and life path. Let's now explore each of the 12 Vedic astrology signs, shedding light on their unique characteristics and traits.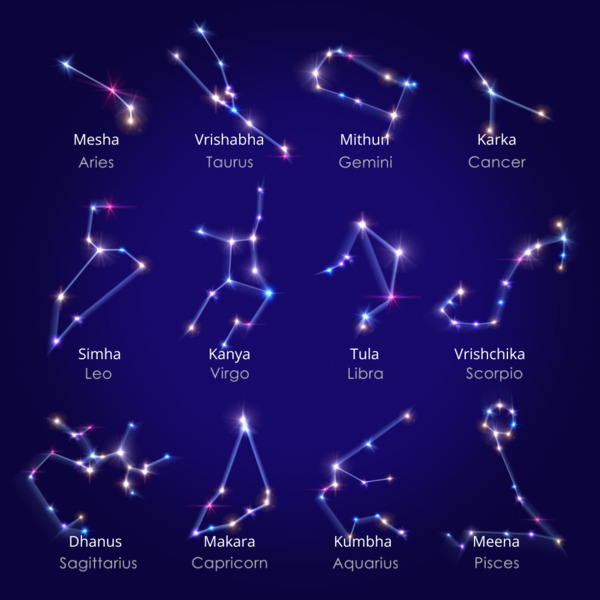 Aries / Mesha (April 13 – May 14)
Aries individuals are known for their unwavering determination and leadership qualities. Born between April 13 and May 14, they are often adventurous, competitive, and fearless.
Taurus / Vrishabha (May 15 – June 14)
Taurus natives, born between May 15 and June 14, are renowned for their strong willpower and practicality. They are often grounded, reliable, and have a deep connection with the material world.
Gemini / Mithun (June 15 – July 14)
Gemini, represented by the Twins, encompasses those born between June 15 and July 14. They are known for their intellectual prowess, adaptability, and excellent communication skills.
Cancer / Karka (July 15 – August 14)
Cancerians, born between July 15 and August 14, are deeply nurturing and emotional. They have a strong intuition and are known for their compassion and empathy.
Leo / Simha (August 15 – September 15)
Leos, born between August 16 and September 15, are the kings and queens of the zodiac. They exude confidence, charisma, and creativity.
Virgo / Kanya (September 16 – October 15)
Virgo individuals, born between September 16 and October 15, are meticulous and detail-oriented. They possess a strong sense of duty and are perfectionists by nature.
Libra / Tula (October 16 – November 14)
Librans, born between October 16 and November 14, are known for their love of harmony and balance. They are often diplomatic, charming, and fair-minded.
Scorpio / Vrishchika (November 15 – December 14)
Scorpios, born between November 15 and December 14, are intense and passionate. They have a magnetic personality and are unafraid of delving deep into the mysteries of life.
Sagittarius / Dhanus (December 15 – January 13)
Sagittarians, born between December 15 and January 13, are the adventurous wanderers of the zodiac. They are known for their love of exploration and philosophical thinking.
Capricorn / Makara (January 14 – February 11)
Capricorns, born between January 14 and February 11, are disciplined and goal-oriented. They are natural-born leaders who excel in both personal and professional pursuits.
Aquarius / Kumbha (February 12 – March 12)
Aquarians, born between February 12 and March 12, are known for their innovation and humanitarian ideals. They are open-minded and progressive thinkers.
Pisces / Meena (March 13 – April 12)
Pisceans, born between March 13 and April 12, are deeply empathetic and artistic. They have a profound connection with their inner worlds and often possess psychic abilities.
The Planets in Vedic Astrology
In the vast cosmos of Vedic Astrology, the celestial bodies hold a profound significance, shaping our destinies and revealing the secrets of the universe. From the radiant Sun (Surya) to the enigmatic shadows of Rahu and Ketu, and even the modern rulerships of Uranus, Neptune, and Pluto, each of these celestial entities plays a unique role in deciphering the cosmic code.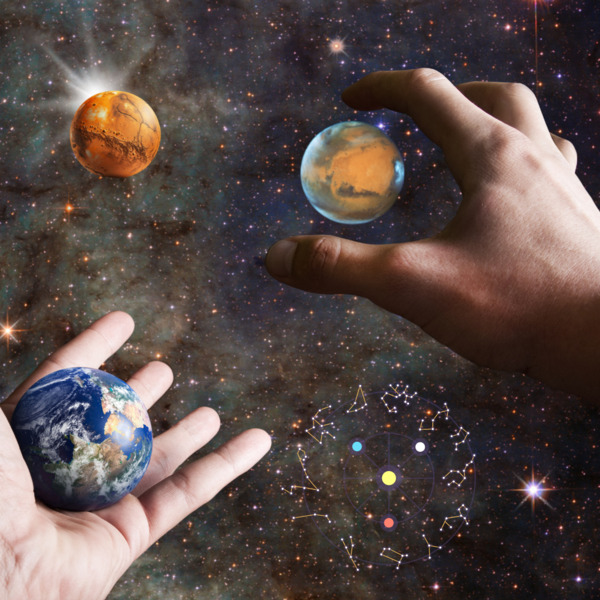 The Sun (Surya) – Illuminator of the Soul
The Sun, known as Surya in Vedic Astrology, is the radiant source of light and energy. It represents the soul and one's core identity. When the Sun is strong in your birth chart, it bestows confidence, leadership qualities, and a strong sense of purpose.
The Moon (Chandra) – Emotions and Intuition
Chandra, or the Moon, governs our emotions, instincts, and intuition. It influences our moods, sensitivity, and our connection to the subconscious mind. A strong Moon fosters creativity and emotional stability.
Mars (Mangala) – The Warrior Planet
Mars, or Mangala, is the fiery warrior of Vedic Astrology. It symbolizes energy, courage, and determination. A well-placed Mars can bring success in endeavors requiring assertiveness and bravery.
Mercury (Budha) – The Messenger
Mercury, or Budha, is the planet of communication and intellect. It governs our thinking patterns, communication skills, and analytical abilities. A strong Mercury promotes clarity of thought and effective communication.
Jupiter (Guru) – The Guru of Wisdom
Jupiter, known as Guru, represents wisdom, knowledge, and spirituality. It brings blessings, growth, and expansion in various aspects of life. A favorable Jupiter can lead to prosperity and spiritual evolution.
Venus (Shukra) – The Planet of Love and Beauty
Venus, or Shukra, is the planet of love, beauty, and sensuality. It governs our relationships, creativity, and aesthetic sense. A strong Venus bestows charm, artistic talents, and harmonious relationships.
Saturn (Shani) – The Taskmaster
Saturn, or Shani, is the strict taskmaster of Vedic Astrology. It symbolizes discipline, responsibility, and karma. A well-placed Saturn rewards hard work with long-term success.
Rahu and Ketu – The Shadow Planets
Rahu and Ketu are not physical planets but are lunar nodes with a powerful influence in Vedic Astrology. Rahu represents desires and worldly pursuits, while Ketu signifies spirituality and detachment.
Uranus, Neptune, and Pluto – Modern Rulerships
In modern astrology, Uranus, Neptune, and Pluto have gained recognition as significant celestial bodies. Uranus brings innovation and change, Neptune embodies dreams and illusions, and Pluto signifies transformation and rebirth.
Now that we've explored the significance of each planet, remember that Vedic Astrology is deeply rooted in tradition and authenticity. Always rely on credible sources of information to understand the impact of these planets on your life. Let's embrace the wisdom of the cosmos and navigate our journeys with clarity and insight.
Houses In Vedic Astrology
At the core of Vedic astrology lie the 12 houses, each holding a unique key to unraveling the mysteries of our existence. In this comprehensive guide, we will explore the significance of each of the 12 houses in Vedic astrology.
House 1: The Ascendant (Lagna Bhava)
The first house, also known as the Ascendant, represents the self, personality, and physical attributes. It's the starting point of the birth chart and sets the tone for the entire astrological analysis. This house defines your outer persona and how the world perceives you.
House 2: Wealth and Resources (Dhana Bhava)
House 2 is all about material possessions, wealth, and financial matters. It provides insights into your financial stability, assets, and earning potential. It also hints at your attitude towards money.
House 3: Communication and Siblings (Parakrama Bhava)
This house governs communication skills, short journeys, and relationships with siblings. It sheds light on your ability to express ideas and connect with your immediate environment.
House 4: Home and Family (Sukha Bhava)
House 4 is your sanctuary, representing your home, family, and domestic harmony. It reflects your roots, childhood experiences, and the emotional foundation upon which you build your life.
House 5: Creativity and Romance (Putra Bhava)
Creativity, romance, and matters related to children are encapsulated in this house. It unveils your artistic talents, love affairs, and your approach to parenthood.
House 6: Health and Service (Ripu Bhava)
House 6 concerns your health, well-being, and your role in serving others. It also touches upon disputes, enemies, and obstacles in life.
House 7: Relationships and Partnerships (Kalatra Bhava)
Partnerships, marriage, and significant relationships fall under the jurisdiction of House 7. It provides insights into the dynamics of your partnerships and how you relate to others.
House 8: Transformation and Inheritance (Ayur Bhava)
House 8 explores the mysteries of life and death, as well as inheritances and shared resources. It delves into your ability to transform and regenerate.
House 9: Higher Learning and Philosophy (Dharma Bhava)
This house is associated with higher education, philosophy, and spirituality. It reflects your beliefs, long journeys, and the quest for higher knowledge.
House 10: Career and Public Image (Karma Bhava)
House 10 represents your career, public life, and social status. It indicates your ambitions, achievements, and reputation in society.
House 11: Ambitions and Social Circles (Labha Bhava)
House 11 focuses on your aspirations, social networks, and gains. It reveals your capacity to fulfill your desires and make meaningful connections.
The twelfth house deals with the subconscious, hidden enemies, and confinement. It also touches upon spiritual liberation and the uncharted territories of the mind.
Now that we've unveiled the significance of each of the 12 houses in Vedic astrology, remember that the interactions and placements of planets within these houses further refine the astrological reading, adding layers of complexity and insight.
The 27 Nakshatras
Vedic astrology, an ancient and revered practice, delves deep into the cosmic realms to decipher the secrets of human existence. Among its various components, the 27 Nakshatras stand as celestial beacons guiding our destinies.
What are Nakshatras
To understand the profound impact of Nakshatras on our lives, we must first comprehend what they are. Nakshatras are lunar constellations, segments of the sky where the moon resides for one day. These 27 Nakshatras each possess unique qualities and attributes that influence our personalities, behaviors, and life events.
Ashwini Nakshatra
Our celestial journey begins with Ashwini Nakshatra, associated with the Ashwini Kumaras, the celestial physicians. This Nakshatra signifies healing, swiftness, and rejuvenation. Individuals born under Ashwini Nakshatra often exhibit remarkable vitality and a penchant for helping others.
Bharani Nakshatra
Moving forward, we encounter Bharani Nakshatra, symbolizing birth and creation. Its ruler is Yama, the god of death, signifying transformation and renewal. Those born under Bharani Nakshatra possess an inherent ability to bring about change and transformation.
Krittika Nakshatra
Krittika Nakshatra, ruled by Agni, the god of fire, is marked by determination and fiery energy. This Nakshatra embodies the qualities of light, purification, and the ability to cut through obstacles. Individuals with Krittika Nakshatra placements are often driven and goal-oriented.
Rohini Nakshatra
Rohini Nakshatra, associated with Lord Brahma, is known for its nurturing and creative energies. It represents fertility and abundance, making it a favorable Nakshatra for material and spiritual growth. Those born under Rohini Nakshatra are often blessed with artistic talents.
Mrigashira Nakshatra
Mrigashira Nakshatra, governed by the god Soma, exudes curiosity and exploration. It is a Nakshatra of searching and seeking, often linked to intellectual pursuits and a love for travel.
Ardra Nakshatra
Ardra Nakshatra, symbolizing the storm and turbulence, is ruled by Lord Rudra. This Nakshatra highlights the dual nature of existence and the power of transformation through challenges.
Punarvasu Nakshatra
Punarvasu Nakshatra, represented by Aditi, the mother of all gods, embodies nourishment and support. It signifies a period of growth and expansion in one's life.
Pushya Nakshatra
Pushya Nakshatra, ruled by Lord Brihaspati, is associated with spirituality and devotion. Individuals born under this Nakshatra often possess strong religious inclinations.
Ashlesha Nakshatra
Ashlesha Nakshatra, governed by the serpent deity, signifies hidden potential and latent energy. It can be a Nakshatra of intense transformation and healing.
Magha Nakshatra
Magha Nakshatra, representing the throne, is linked to ancestry and heritage. It signifies a strong sense of tradition and a desire to uphold family values.
Purva Phalguni Nakshatra
Purva Phalguni Nakshatra, ruled by Bhaga, the god of marital bliss, embodies the spirit of love and romance. It signifies a time of enjoyment and celebration.
Uttara Phalguni Nakshatra
Uttara Phalguni Nakshatra, associated with Aryaman, the god of contracts, signifies the importance of social and contractual obligations.
Hasta Nakshatra
Hasta Nakshatra, symbolizing the hand, is linked to skills, craftsmanship, and precision. It represents the power of dexterity and attention to detail.
Chitra Nakshatra
Chitra Nakshatra, ruled by Tvashtar, the celestial architect, embodies creativity and artistic expression. It signifies the ability to manifest one's desires.
Swati Nakshatra
Swati Nakshatra, governed by Lord Vayu, the wind god, signifies movement and change. It embodies the spirit of independence and adaptability.
Vishakha Nakshatra
Vishakha Nakshatra, symbolizing the forks of a tree, embodies the duality of choices and decisions. It signifies the need for balance and harmony in life.
Anuradha Nakshatra
Anuradha Nakshatra, ruled by Mitra, the friend, emphasizes companionship and cooperation. It signifies the importance of forming alliances.
Jyeshtha Nakshatra
Jyeshtha Nakshatra, associated with Lord Indra, represents authority and leadership. It signifies a time of taking charge and asserting one's power.
Mula Nakshatra
Mula Nakshatra, symbolizing the root, is linked to transformation and destruction. It signifies the need to uproot and eliminate obstacles in life.
Purva Ashadha Nakshatra
Purva Ashadha Nakshatra, ruled by Apah, the water deity, signifies purification and cleansing. It represents a time of spiritual growth and renewal.
Uttara Ashadha Nakshatra
Uttara Ashadha Nakshatra, associated with the ten Vishvadevas, embodies victory and accomplishment. It signifies the rewards of hard work and dedication.
Shravana Nakshatra
Shravana Nakshatra, symbolizing the ear, signifies the importance of listening and learning. It represents a time of acquiring knowledge and wisdom.
Dhanishta Nakshatra
Dhanishta Nakshatra, ruled by Vasus, the elemental deities, embodies wealth and prosperity. It signifies financial growth and material success.
Shatabhisha Nakshatra
Shatabhisha Nakshatra, symbolizing the hundred healers, signifies healing and restoration. It represents the power of rejuvenation and recovery.
Purva Bhadrapada Nakshatra
Purva Bhadrapada Nakshatra, governed by Ajaikapada, represents the mystical and spiritual realms. It signifies a time of deep introspection and spiritual awakening.
Uttara Bhadrapada Nakshatra
Uttara Bhadrapada Nakshatra, associated with Ahirbudhnya, the serpent of the deep sea, signifies the depths of the subconscious mind and hidden knowledge.
Revati Nakshatra
Our cosmic journey concludes with Revati Nakshatra, ruled by Pushan, the nourisher. It embodies the spirit of nurturing and guidance, signifying a time of completion and transition.
How Does Vedic Astrology Work
The Birth Chart – Your Cosmic Blueprint
At the heart of Vedic astrology lies the birth chart, a celestial snapshot of the heavens at the moment of your birth. This intricate map reveals your unique cosmic blueprint, outlining the positions of celestial bodies and their influence on your life. Here's how it works:
Dashas – The Cosmic Timelines
Dashas are integral to Vedic astrology, representing specific planetary periods that influence your life's unfolding narrative. Let's explore this concept further:
Understanding Dashas
Dashas are periods ruled by specific planets, each with its unique energy and influence. These periods are determined by the positions of planets at the time of your birth and follow a predetermined sequence. During a dasha, the energy of the ruling planet takes center stage in your life, shaping your experiences and decisions.
Navigating Dashas
Astrologers use dashas to predict significant life events and transitions. By analyzing the current dasha, one can gain valuable insights into career advancements, relationships, and personal growth. It's like having a cosmic calendar that guides you through life's twists and turns.
Remedies – Aligning with Cosmic Harmony
In Vedic astrology, remedies are the bridge between the human and cosmic realms. They help individuals harmonize their energies with the cosmos for a more fulfilling life:
The Role of Remedies
Remedies can include rituals, prayers, gemstone recommendations, or other practices that mitigate the malefic effects of planetary influences. These remedies aim to balance the energies in your birth chart, ensuring a smoother life journey.
The Power of Alignment
By following prescribed remedies, individuals can align themselves with the cosmic energies, ultimately mitigating challenges and enhancing the positive aspects of their lives. It's like recalibrating your life's compass to navigate smoothly through the cosmic sea.
How Do You Know Your Vedic Sign
The Importance of Vedic Signs
In Vedic astrology, your sun, moon, and ascendant signs play a crucial role in defining your personality, strengths, and challenges. These signs are determined by the positions of celestial bodies at the time of your birth.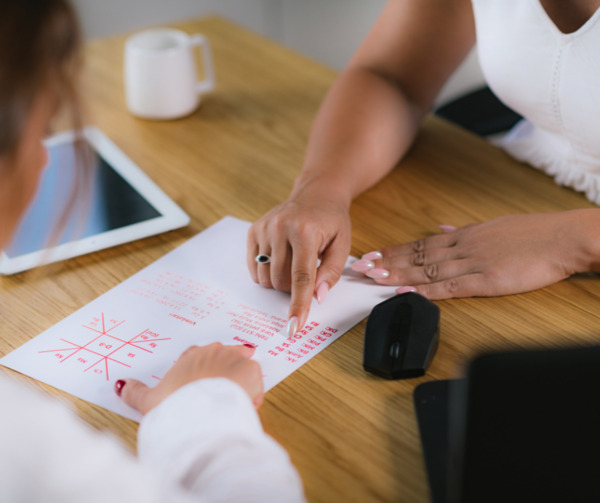 Calculating Your Vedic Sun Sign
Understanding the Sun Sign
Your Vedic sun sign, often referred to as your "Rashi," represents the position of the sun at the time of your birth. It influences your core identity and overall life purpose.
The Twelve Vedic Sun Signs
Vedic astrology features twelve sun signs, each associated with specific qualities and characteristics. To calculate your Vedic sun sign, you need to know your date of birth.
Determining Your Vedic Moon Sign
The Significance of the Moon Sign
The moon sign, known as your "Chandra Rashi," reflects your emotional nature, instincts, and subconscious mind. It's a key element in understanding your inner self.
The Lunar Zodiac
Just like the sun signs, there are twelve lunar signs in Vedic astrology. Calculating your moon sign involves considering the position of the moon at the time of your birth.
Exploring Your Vedic Ascendant Sign
What Is the Ascendant Sign?
Your Vedic ascendant sign, also known as your "Lagna," represents the zodiac sign that was rising on the eastern horizon at the moment of your birth. It greatly influences your physical appearance and how others perceive you.
How to Calculate Your Ascendant Sign
Determining your ascendant sign can be a bit complex, as it requires precise birth time information. Astrologers use a special tool called a "natal chart" to identify this sign accurately.
Mastering the Art of Vedic Astrology
Now that you have a grasp of the fundamental components of Vedic astrology let's delve into some common terms and concepts:
Zodiac in Vedic Astrology
The Vedic zodiac consists of 27 lunar constellations, each known as a "Nakshatra." These Nakshatras provide further insights into your personality traits and life events.
Sun Sign, Moon Sign, and Rising Sign
Understanding how these three signs interact can offer a comprehensive view of your character and life path. Your sun sign represents your core identity, the moon sign reflects your emotions, and the rising sign influences your outward behavior.
The Role of Vedic Astrology in Daily Life
Vedic astrology is not just about knowing your signs; it's a powerful tool for self-discovery and guidance. Many people turn to Vedic astrology for insights into their careers, relationships, and personal growth.
How to Read a Vedic Astrology Chart
Understanding the Birth Chart
Before we dive into the details, let's clarify what a Vedic astrology birth chart is. Also known as a Janam Kundli or horoscope, it's a map of the celestial bodies' positions at the exact time of your birth. To read it effectively, you need to consider the following components:
Planets (Grahas)
In Vedic astrology, nine celestial bodies significantly impact our lives. These are the Sun (Surya), Moon (Chandra), Mars (Mangala), Mercury (Budha), Jupiter (Brihaspati), Venus (Shukra), Saturn (Shani), Rahu, and Ketu. Each planet has unique characteristics and influences various aspects of your life.
Houses (Bhavas)
The birth chart consists of twelve houses, each representing specific areas of life. For instance, the first house (Lagna Bhava) signifies your personality and physical appearance, while the seventh house (Kalatra Bhava) relates to marriage and partnerships. Understanding the houses is crucial for a comprehensive analysis.
Aspects (Drishti)
Aspects refer to the way planets influence each other in the chart. These planetary interactions reveal intricate details about your personality, relationships, and life events. Analyzing aspects requires a keen eye for planetary alignments and their implications.
Analyzing Planets in Vedic Astrology
Now, let's explore how to analyze the planets in a Vedic astrology chart:
Identify the Ascendant
The first step is to determine the Ascendant (Lagna). It sets the stage for the entire chart and represents your self-image, body, and overall approach to life.
Examine the Planetary Positions
Pay close attention to where each planet is placed in the houses. For example, if Mars is in the seventh house, it can indicate a strong desire for a passionate and dynamic partnership.
Assess Planetary Strength
Evaluate the strength of each planet through factors like dignity, aspects, and conjunctions. Strong planets exert more influence over your life.
Understanding the Houses
Next, let's unravel the significance of the houses in Vedic astrology:
Ascendant House (First House)
This house defines your identity and physical appearance. It's the starting point for analyzing the entire chart.
Career and Reputation (Tenth House)
The tenth house reveals your career path, ambitions, and public image. It's essential for understanding your professional life.
Relationships (Seventh House)
The seventh house governs partnerships, marriage, and business associations. Analyzing this house provides insights into your relationship dynamics.
Deciphering Planetary Aspects
Lastly, let's explore how planetary aspects shed light on your life:
Conjunctions
When planets are close to each other, they create a conjunction. This can intensify the combined planetary energies, leading to significant life events or traits.
Trines and Sextiles
These harmonious aspects indicate ease and flow in various life areas. For example, a Jupiter-Venus trine can bring luck and positivity in relationships.
Squares and Oppositions
Challenging aspects like squares and oppositions signify obstacles and conflicts. They prompt growth through overcoming difficulties.
By analyzing planets, houses, and aspects in your Vedic astrology chart, you can gain profound insights into your life's journey, strengths, and challenges. Remember that Vedic astrology is a complex system that requires patience and practice to master.
Is Vedic Astrology Accurate
Evidence in Favor of Vedic Astrology
Now, let's explore the compelling evidence that supports the accuracy of Vedic astrology.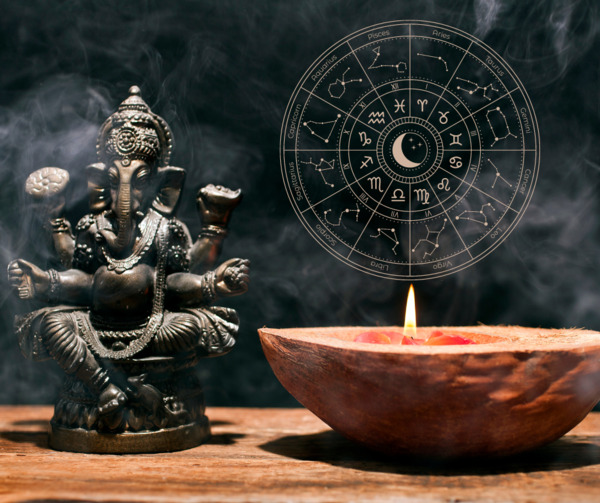 Historical Significance
One of the strongest arguments in favor of Vedic astrology's accuracy is its long and illustrious history. The practice has been documented in ancient texts like the Vedas and has been used for centuries to guide individuals in various aspects of life.
Personalized Predictions
Vedic astrologers are renowned for their ability to provide highly personalized and precise predictions. By analyzing a person's birth chart, they can offer insights and advice that often resonate with the individual's life experiences.
Success Stories
Countless success stories of individuals who have benefited from Vedic astrology further bolster its credibility. People attribute life-changing decisions and improvements in their lives to the guidance they received from Vedic astrologers.
Evidence Against Vedic Astrology
To maintain a balanced perspective, let's consider the arguments against the accuracy of Vedic astrology.
Lack of Scientific Validation
Critics argue that Vedic astrology lacks empirical scientific validation. They contend that the astrological principles are not backed by rigorous scientific research and are based on tradition rather than evidence.
Variation in Interpretation
Another point of contention is the variation in interpretations provided by different Vedic astrologers. Skeptics suggest that the subjectivity in interpretation can lead to inconsistent results and undermine the credibility of the practice.
Skepticism in the Modern World
In today's modern and scientifically oriented world, there is a growing skepticism toward astrology in general. Some argue that belief in astrology is based on superstition rather than empirical evidence.
In the quest to answer the question, "Is Vedic Astrology Accurate?" we find a complex interplay of historical significance, personalized predictions, and a lack of scientific validation. While Vedic astrology has a rich tradition and numerous success stories to its name, it also faces criticism for its lack of empirical evidence and variation in interpretation.
Ultimately, whether one believes in the accuracy of Vedic astrology is a deeply personal matter. For many, it continues to be a source of guidance and insight into the mysteries of life.
FAQs
Q: What are vedic astrology signs
A: Vedic astrology signs are the 12 zodiac signs that are used in the ancient system of astrology called Vedic astrology. These signs are based on the sidereal zodiac and are different from the tropical zodiac used in Western astrology.
Q: What is the difference between vedic and western astrology
A: Vedic astrology and Western astrology are two different systems of astrology. Vedic astrology is based on the sidereal zodiac, which takes into account the actual positions of the stars and is used primarily in India. Western astrology, on the other hand, uses the tropical zodiac, which is based on the four seasons and is more commonly used in Western countries.
Q: What is a birth chart
A: A birth chart, also known as a natal chart, is a map of the positions of the planets at the exact moment of someone's birth. It is used in astrology to gain insight into a person's character, strengths, weaknesses, and life events.
Q: What is an astrologer
A: An astrologer is a person who practices astrology and is skilled in interpreting birth charts and making predictions based on the positions of the planets at a given time.
Q: What are the 12 zodiac signs
A: The 12 zodiac signs are Aries, Taurus, Gemini, Cancer, Leo, Virgo, Libra, Scorpio, Sagittarius, Capricorn, Aquarius, and Pisces.
Q: What is a sun sign
A: A sun sign, also known as a star sign, is the zodiac sign that the sun was in at the time of your birth. It is one of the most commonly known aspects of astrology and is often what people refer to when they ask, "What's your sign?"
Q: What does vedic astrology include
A: Vedic astrology includes not only the 12 zodiac signs, but also other elements such as the positioning of the planets, the lunar mansions, and the doshas (astrological imbalances). It is a complex system that takes into account various factors to make predictions and interpretations.
Q: How is vedic astrology different from western astrology
A: Vedic astrology differs from Western astrology in many ways. Firstly, it uses the sidereal zodiac instead of the tropical zodiac. Secondly, it places great emphasis on the moon and lunar mansions. Lastly, it has its own set of calculations and techniques that are unique to the system.
Q: Why doesn't Western astrology include the sidereal zodiac
A: Western astrology doesn't include the sidereal zodiac because it is based on the four seasons and the relationship of the sun to the Earth. It focuses more on the psychological and personality aspects of a person, rather than the spiritual and karmic aspects that Vedic astrology encompasses.
Q: How was vedic astrology used in the past
A: Vedic astrology was used in the past as a tool for making predictions and guiding important decisions. It was often consulted for matters such as marriage, childbirth, career choices, and even political events. It continues to be widely practiced in India and has gained popularity in other parts of the world as well.